Will The Pittsburgh Steelers Be Able To Dethrone Current Champions New England?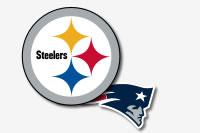 When you go to bet on the NFL, you want to wager on the good teams and against the bad teams. That's just what makes sense, right? Well, if you're a Pittsburgh Steelers fan, you'll be happy to know that your team is pretty much favored to win big in the upcoming NFL season, making betting on them that much easier.
These preseason NFL betting odds are not based on an exact science. Rather, they're based off a combination of how the team performed in the previous year, how well they did in free-agency, and how well they did in the Draft. Fortunately, these are three categories in which the Pittsburgh Steelers dominated.
Last year, the Steelers went 11-5, winning their division and making it into the three-seed in the playoffs. This Pittsburgh team had an incredibly dominant team in 2016. Making it through all the way to the Conference Championship, it looked like this team might make it to the Super Bowl, before they fell in a rather disappointing fashion to the Patriots.
With the thoughts of redemption on their mind in 2017, it may be the other way around. Oddsmakers expect this to be a close game, but give a slight edge to the Pats as they won last year. But don't count the Steelers out just yet. They've got some of the best Super Bowl 52 betting odds and they'll almost definitely have to take down the Pats before they can clear a way to Minnesota in February. Pittsburgh's Super Bowl 52 betting odds are currently 12/1 and better than most other teams.
When you're not betting on Super Bowl futures, you might be taking a season proposition bet. These are determined based off of some similar stats, but another factor in determining preseason totals for games won is the strength of schedule. Pittsburgh is currently tied for the fifth-easiest schedule in the NFL. Teams below them? The Colts, Jags, Titans, and Bengals.
Now, strength of schedule really doesn't mean much. We're going off of the opponents previous years' schedules, which, as everyone knows, means next to nothing in a new season. Key players could get injured early on, teams could make trades, the previous season could have been a fluke. But that doesn't keep oddsmakers from using it to determine the total of games teams might win. Heading into 2017, the Steelers have one of the best totals: 10.5 games. That's second only to the New England Patriots, who have a game total of 12.5, the best in the league.
I mean, just look at the Falcons. They had the hardest strength of schedule leading into 2016 and ended up facing a bunch of teams that didn't do nearly as well as they were expected to do, based solely on their performances in the previous season. Not to take away from what the Falcons did, but I am saying that this early in the offseason strength of schedule means nothing. So take that with a grain of salt before you bet on the season totals.
Another aspect of sports betting in Pennsylvania and betting on the Pittsburgh Steelers that you can look at is the game by game spreads. In 2017, Pittsburgh is favored in 13 of its matchups. If they win every matchup they are favored in, they could have even better record than last year. They are also the easy favorites to wrap up the AFC North again this year, at +175 to win the division.
With odds like this, it's not hard to want to bet on the Steelers. But favorable odds don't always spell out success. The big question of the preseason is this: will they be able to back up these odds and go all the way this year? Or will they once again be knocked out by the New England Patriots?